Company's philosophy
In my experience in discussions with clients I am frequently confronted with questions such as: "How much will it cost?" ... Dear customers, it is reasonable to ask about the costs, but you should rather primarily ask the question: "What do I get for this money?" ...

After all, the exhaust manifold, or exhaust pipe can be done in a thousand different ways, some more expensive, some cheaper .... It may be perfect, beautiful, or it can be ugly and pathetic. Pipes can be perfectly matched, welded with a good welder, using suitable current and in a sheath of noble gas, but it may also be ill-clamped with interfusions on the inside, welded with an old welder causing interfusions on the inside, which significantly raises resistance in the passage of the exhaust system. The exhaust pipe may be fitted under the car perfectly, where it ought to be, but it may also be too close to the car body parts, resulting in knocking noises, it being fitted too low / too high, too loud, etc.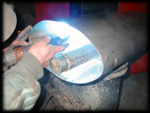 Please note that no one thinks about the payment for knowledge and skills; you only pay for the welding .... Often the ideal is a "specialist", whose father-in-law also has a welding machine, which means that he will design and carry out the manifold or exhaust system`s assembly, he will fit and fix everything perfectly so that the car will show an incredible increase in performance course- and he will do all that as a hobbyist - at a ridiculously low price, because he doesn`t make a living off of this ... This is not so! Good exhaust system cannot be done by just anyone without the knowledge and experience at low cost!

In proposing our services we are aware that we perform our work perfectly, by perfectly matching individual tubes, welding using the best methods.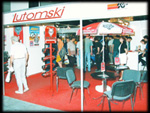 We are an experienced expert in the field of sports suppressors and exhaust systems, with vast technical knowledge combined with experience gained directly from dealing with the best manufacturers such as REMUS, SEBRING, or Supersprint.

In addition, we only deal with treatment of steel, no mechanics, no computers, focusing exclusively on the steel and not on "everything and nothing" because we know it is impossible to specialize in everything.

Therefore, I repeat the words: "Dear customers, it is reasonable to ask about the costs, but you should rather primarily ask the question: "What do I get for this money?" This will help avoid disappointment!

My ideal is not to offer our services at "the lowest possible cost" but as "the best", but of course also for a reasonable price!

Wishing you success in this great adventure with tuning and allocating your hard earned money wisely to turn it into "safe horsepower".


Best regards

Wojciech Lutomski